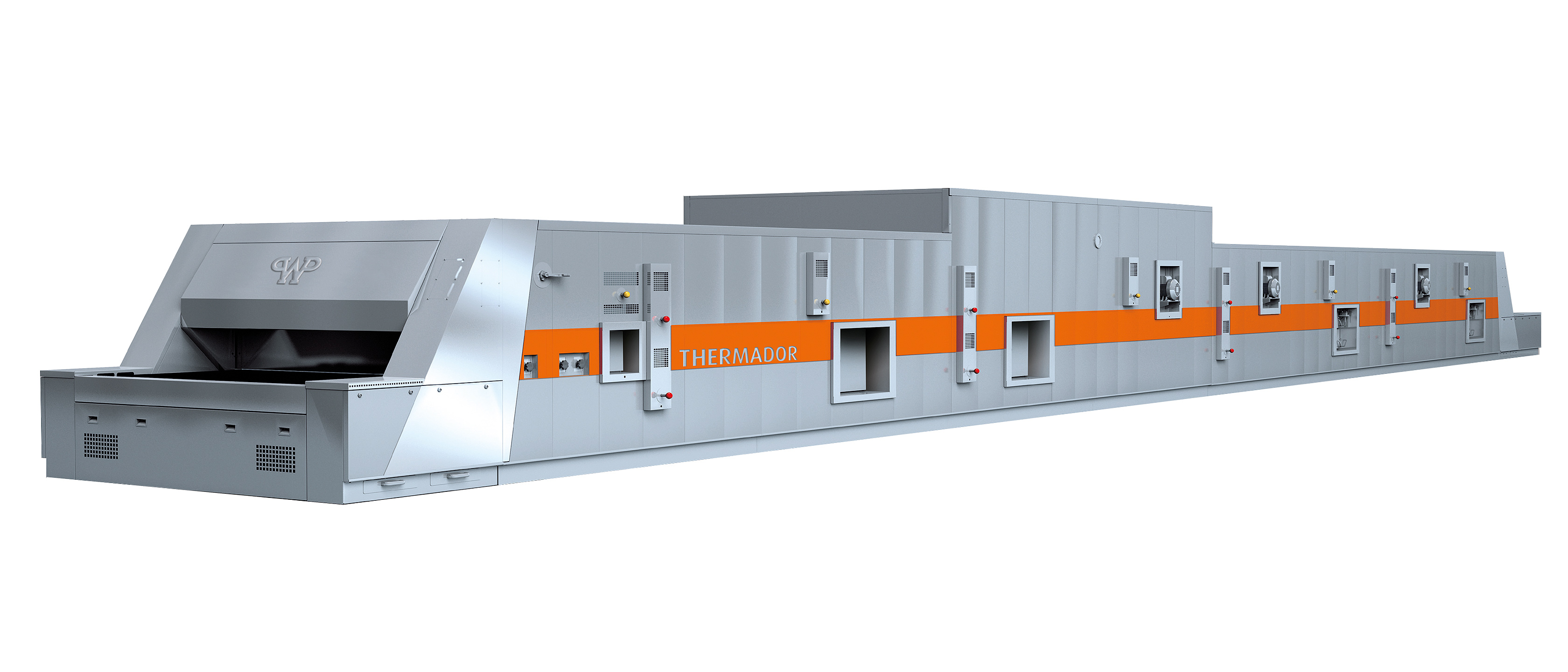 Continuous tunnel oven
THERMADOR
Efficient, modular und diverse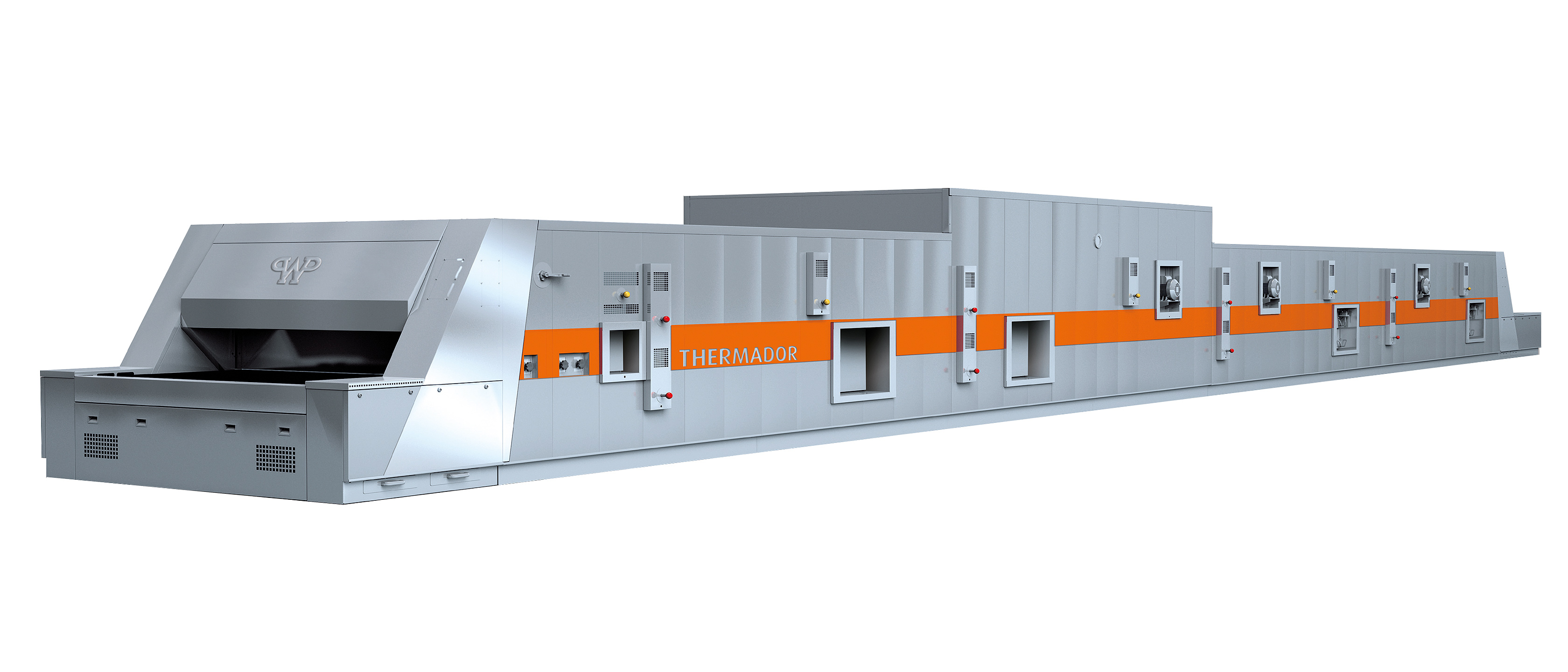 continuous production
most advanced baking technology
high economic efficiency
The tunnel oven for
continuous baking
Premium quality in the baking process according to the requirements of each product requires individual temperature, heat transfer and humidity profiles. The WP solution for perfect baking results with optimised energy use is called: THERMADOR. The reliable tunnel oven for continuous production of the entire product range combines modern baking technology and high economic efficiency with reliability and durability.
INDIRECT HEATING
Perfect baking results are achieved due to the closed ZYKLOTHERM heating gas circulation system. This is an indirect heating system, which means that the heating gases are separated from the baking chamber and do not come into contact with the baked goods. Heat is transferred to the baked goods via radiation, convection and heat conduction. Each control zone can be regulated independently by means of top and bottom heat.
MODULARITY
The unique modular design of the THERMADOR furnace system allows individual oven configurations as well as a freely combinable zone arrangement of Zyklotherm, Duotherm, Infrared and Quattro:
closely stepped modular system from 10.5 to 60 m for a product-related zone arrangement
Flexibly combinable and universal
HYGIENE
The oven systems meet the hygiene requirements according to DIN EN 1672-2: extra-large removable, divided cleaning and viewing doors as well as self-cleaning function of the mesh belt. No combustion gases in the baking chamber.
INFRARED TECHNOLOGY SPECTRA
With this technology, the heat radiation is shifted into the infrared range. The baked product reaches the required core temperature faster, which shortens baking times and saves energy. In addition, undesired surface browning is avoided, the product retains a higher moisture content and has improved volume and optimised taste characteristics as well as longer freshness times. All oven types can be equipped with this technology.
AFTER SALES
Ease of maintenance: Highest quality, solid design and low maintenance requirements ensure high availability. Remote maintenance is possible.
INDIVIDUAL OVEN CONFIGURATION
The control zone configuration allows the oven to be adapted to individual product requirements and the optimum baking curve of the product. The THERMADOR oven system offers very fine gradation options so that temperature and humidity affect the baked product to the required degree at the right time in the baking process.
High energy utilisation - up to 35 % less energy consumption
Since energy costs nowadays account for a steadily increasing proportion of the total production costs for baked goods, Werner & Pfleiderer has also developed concepts in this area that reduce energy consumption while maintaining reproducible premium quality, thus saving energy costs:
High performance, maximum benefits and modular options
Rising staff costs and competitive pressure demand automated solutions. That is why the THERMADOR is equipped with both semi-automatic and fully automatic control. Werner & Pfleiderer relies on the latest digital control technology. User-friendly touchscreen panel - easy comprehension and logic to avoid operating errors.
Energy optimisation

Since energy costs nowadays account for a steadily increasing proportion of the total production costs for baked goods, Werner & Pfleiderer has also developed concepts in this area that reduce energy consumption while maintaining reproducible premium quality, thus saving energy costs:

Process control and monitoring
No surface losses due to optimal module design and highly efficient thermal insulation
Use of energy-efficient materials
More powerful DUO fans
Quattro system
Controlled steam quantity supply according to individual requirements
Low exhaust gas temperatures
Short baking times

Process optimised:

Semi- or fully automatic control and regulation of:

Baking time
Heating gas temperature / zone temperatures (according to top and bottom heat)
Steam and moisture quantity
Radiant wall temperatures
Automatic changeover to new process data in the event of a change of type
Gap detection and automatic readjustment of zones for top and bottom heat
Speed & direction of rotation of the DUO fans
The automatic control of the DUO fans prevents overheating of the oven in case of under-utilisation.
Heating gas and steam sliders are electrically driven and integrated into the control system

Safe:

Zero-error technology: the system is self-regulating
99 different recipes can be stored
Display of all operating data and temperature profiles across all oven zones
Reproducibility and product traceability
Display of all operating and fault messages
Extensive service level integrated in operator level for commissioning, service and maintenance without additional programming device
Remote diagnosis via internet and telephone
Conveyor width:
2.000 mm
2.500 mm
3.000 mm
3.300 mm
3.750 mm
4.000 mm*
*Specifications do not apply to Stone and Grid
Useful width:
1.950 mm
2.450 mm
2.950 mm
3.250 mm
3.700 mm
3.950 mm
Baking compartment length:
10.500 – 60.000 mm**
**Combination of baking chamber width and length is dependent on the baking load carrier transport
Baking compartment height:
260 mm
Heating medium:
Natural gas, light fuel oil or electricity
Conveyor load:
30 – 90 kg/m² (higher load on request)
Conveyor design:
50 kg/m² (higher load on request)
Options
THERMADOR with meshed belt
THERMADOR Stone with stone plate conveyor
THERMADOR Grid
Industrial premium quality through gentle baking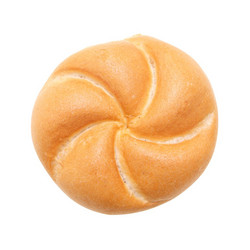 Kaiser rolls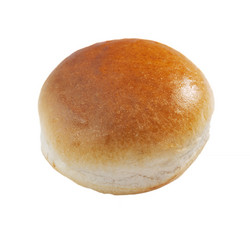 Hamburger buns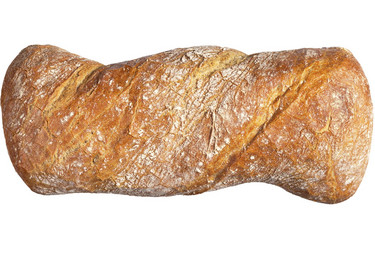 Ciabatta breads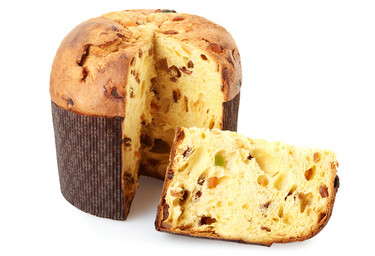 Panettone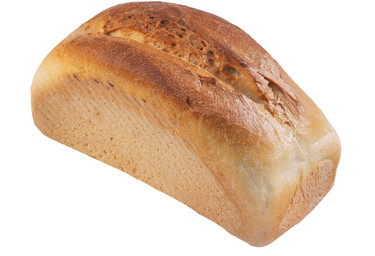 Tin loafs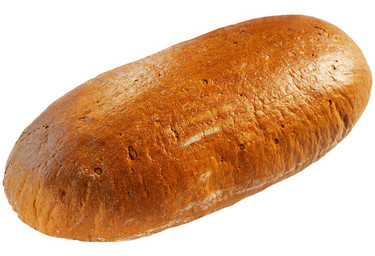 Mixed breads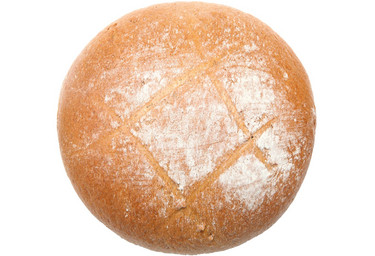 Soft wheat dough breads